We'll be rolling out our in-depth looks at the four NCAA regions throughout the day. don't forget to also look at our previews for the West, Midwest and East Regions.  Right now, Zeke Smith takes a look at the South Region, and says the idea of a conspiracy might be legitimate… but not in the way that you think.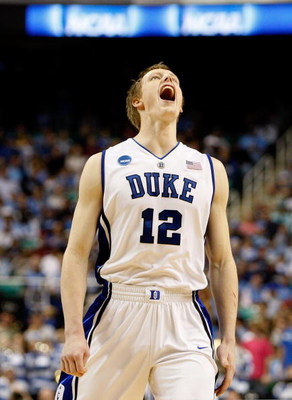 I can't believe holding Myles Brand's kitty hostage actually worked! They gave us the easiest region! Mwahahahah!Before we begin, let me admit that I am a UNC fan writing this preview for Duke's region, and that was done by choice from the Duke section of Blue vs. Blue, that I could address the rampant outrage and conspiracy theories flying around about Duke's easy path to Indianapolis from the proper perspective of an outsider. And my, oh, my, there's plenty of criticism to be leveled about this region. Let's take a look at what the mainstream media are already saying, courtesy of Heelsgeek, who already put this nice montage together:
So obviously, Jason Whitlock's idiocy aside, there's a legitimate gripe to be had here. I think Duke was rightfully rewarded a number 1 seed for winning the ACC regular season and tournament, but for the life of me I just cannot figure out what the selection committee was thinking pairing them with what is safe to call the weakest 4 seed in Purdue, as well as a 2-seed Villanova team that has played poorly down the stretch and a 3-seed in Baylor that, while talented, is a school that hasn't won a tourney game since 1950. You can make a case for any variety of teams giving the Devils a good game, but it's most definitely a case that you have to make against Duke, not the other way around.
Where I differ from everyone else's argument is that I really don't believe the selection committee has done Duke any favors here. Yes, they made some glaring errors approximating the strength of certain teams, overloading the Midwest region with strong squads and leaving the South as the weakest of the bunch. They could have distributed talent more evenly. But Duke once again finds itself in the type of situation that no tourney team wants to be in – anything but a Final Four appearance, given the lack of quality opponents, will be considered a massive disappointment. The selection committee has set Duke up in a no-win situation: if they get to Indy, well, they were supposed to, and if they are upset along the way, the same national media that decried them getting the easiest bracket will be more than eager to pile on the already-tired assertation that the Devils are a team that whither in March. I've already talked to several Duke fans that feel defeated before the games have even begun – anticipating not making the Final Four and then getting crapped on by everybody (and yes, there will be some crapping done, let me be the first to promise that). You almost feel sorry for a team that has to live up to that level of expectations… almost. Like most of the country, I'll still be rooting for them to lose as soon as possible. But if I were a Duke fan I'd be just as pissed as the selection committee for basically turning my team into a national villain instead of giving them the chance to prove themselves.
Now, on to the superlatives…
Best First Round Matchup: Just because the region overall isn't great doesn't mean there aren't some great matchups – California-Louisville looks like a great game in the making, with Rick Patino's press and zone-heavy team going up against a Cal squad that loves to bomb away from three. Both teams haven't quite played up to their potential, as Cal struggled out of conference and Louisville couldn't really establish itself in the loaded Big East, but both teams are capable of big games, as the Cardinals' sweep of Syracuse shows.
Dark Horse: The more I looked at Texas A&M, the more attractive they became as a sleeper Final Four candidate. They have great guard play, an underrated system coach in Mark Turgeon, and a defense that gives other teams fits. If they can get past their surprisingly tough first-round matchup against Utah State, they could be the team that dethrones Duke.
The All-Atlas Squad (guys who can carry their teams): Kyle Singler, Duke (he's been carrying the scoring load but Scheyer still takes the biggest shots in crunch time); Scottie Reynolds, Villanova; Omar Samhan, St. Mary's; Donald Sloan, Texas A&M
Upset Special: Purdue possibly losing to Siena looks too trendy, so I'll go with 11 seed ODU looking to upset 6-seed Notre Dame. Every year there seems to be one of those teams that jumps into a higher seed than they deserve thanks to their strong play leading up to the tournament (see: Syracuse in 2006, USC in 2008, Illinois in 2009, etc) and Notre Dame seems to fit that profile. A bubble team not too long ago, they slowed down their pace without Harangody and won a few games, but hardly enough to justify a 6-seed. Pretty sure that squad is a paper tiger/Irishman. Conversely, Old Dominion won both the regular season and tourney titles in a surprisingly good CAA conference, and they have a stat-stuffer in forward Gerald Lee, a good coach in Blaine Taylor, and a legit out-of-conference win against Georgetown to prove they can get it done against the big boys.
Best Potential Second Round Game: If Notre Dame does win, their potential matchup against Baylor could be a good one – Baylor is a popular sleeper pick with its athletic, freewheeling style and dominant big man Ekpe Udoh, but they've struggled in their conference against teams that patiently grind it out, which is the type of team Notre Dame has now turned itself into. The Udoh-Harangody matchup also promises to be intriguing.
Best Mascot: I'll go with the Richmond Spiders if only in the hope that one of their players will someday do this on the court, plus their fans wear the hilarious headgear pictured at right. (Stupidest mascot name, meanwhile, goes to Sam Houston State for deliberately spelling Bearkats with a "k" for some reason – they should have stuck with their name from the early 1900's, the Normals)
All-Digger Phelps Team (names most likely to be mispronounced): Ekpe Udoh, Baylor; Nikola Knezevic, Cal; Dragan Sekelja, Baylor; Mouphtaou Yarou, Villanova; Mezie Nwigwe, Robert Morris
God Shammgod Award (best name): Alright, clearly the selection committee was ignoring the lack of good teams in the region and focusing on getting it choc full of great names, because we have loads of them. There's potential for a Shaft-esque 70s detective in Rakeem Buckles from Louisville; the self-explanatorily great Pooh Williams of Utah State (heh heh, his name is Pooh); Baylor's unbelievable trio of dudes with first names LaceDarius, Dragan and Tweety; but in the end this award has GOT to go to Just-in'love Smith of Siena – yes, you are reading that first name correctly. To make the story even better, the guy is a military vet who has done a tour in Iraq and made the team as a walk-on, so he's easy to cheer for.
Home Cookin' Award (best geographical placement): Villanova in Providence for the first two rounds, where the other three teams have fan bases that won't travel, and both Baylor and/or Texas A&M if they make it into the Sweet 16, where they'll be playing in nearby Houston.
Coach Most Likely to Play a Mob Enforcer in a Movie: Probably gotta go with Jay Wright on this one, though he'd more likely be a boss than an enforcer - dude is too well-manicured to actually do any dirty work.
And finally, The CincyWakePittBigTenTeam Award for Perennial Underperformer to Avoid Picking for a Deep Run goes to: sorry, but I'm going to show my true blues here and say Duke. The gripe about underperforming in recent years is legitimate and this team looks pretty vulnerable right now. Not to mention that if you're not a Duke fan and they lose while you picked them to go to the Final Four, you'll be kicking yourself for doing so.