I said it in my preview of the East Region, the opening weekend of the tournament is my favorite 'event' in the sports calendar. Of course the second weekend may see some better games, but for my money nothing beats the unpredicatability of the opening rounds. And after an overall forgettable tournament last year, 2010 has been pretty juicy.
Here is the BvB list of superlatives from the weekend:
Most Shocking Result: (tie) Ohio over Georgetown   UNI over Kansas
Best Game: UNI vs. Kansas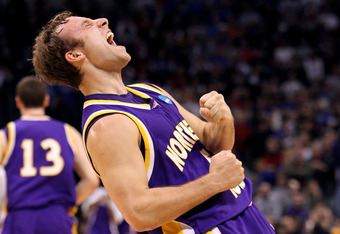 The Juevos Grandes Award: Ali Faroukhmanesh. (btw this award will now be known evermore as The Ali Faroukhmanesh Juevos Grandes Award) I have tweeted a couple of times this season about Jon Scheyer's juevos when he has stepped up and hit huge shots. While Duke didn't need his stones this weekend, what can you say about Ali Faroukhmanesh? His UNI team has been slugging it out with the team most people thought had no weaknesses in Kansas. You've been winning almost the whole game and suddenly Kansas puts on the full court pressure and you have 3 straight team turnovers to carve your lead to a single point. You break the press, finally, up 1 with 35 seconds on the clock (28 on the shot clock). What do you do? Well if you are like most players you dribble the ball around, milk the clock down and try and get a good shot. But Ali is clearly not most players. He knows a) his team is stuggling holding on to the ball, b) he is the #1 big shot option on his team, c) when the one Kansas defender sags into the lane he's not likely to get a better look when Kansas resets their D, and most importantly d) he plays for the University of Northern Friggin Iowa gunning against prohibitive favorite Kansas so what have you really got to loose. Amazing shot. Amazing intelligence. But mostly, amazing Juevos. 
The CincyWakePittBigTenTeam Award for Perennial Underperformer: - First of all, after this weekend this award name clearly needs to be renamed to…
The KansasPittACCTeam Award for Perennial Underperformer:   Yeah, that's more like it. Our sad conference gets inclusion for two straight years of only getting one team in the Sweet Sixteen after 20 straight seasons of having at least two in there. We dropped Cincy because, well, they've been more irrelevant than underachieving in recent years, and Wake gets a bye since it actually didn't roll over and lose to Texas in the first round, although they still fall under the "ACC" banner in the name. Likewise Maryland and Clemson avoid specific shoutouts, though the argument could be made they earned it - Clemson has now lost in the opening round three straight years (by the way, Oliver Purnell has never won a tourney game) , and Maryland couldn't beat MSU without their best player (though they nearly did - more on that in a second). Kansas clearly forces their way back into the discussion of perennially underachieving program because, 2008 title be damned, there are some bad, bad losses on their tourney resume in the last 10 years, and this was one of them, regardless of the fact that UNI is a good team. Kansas was better, and they were supposed to be the only sure thing in the tourney. Speaking of sure things, at least we had one holdover on this name: Pitt, who continues to lose to lower-seeded opponents year after year. Nice to know that even in the anarchy of this past weekend, there are still some things you can count on.
The Nell Carter Award (for the team who got the biggest Gimmie a Break): Ohio State. Georgia Tech hung around but was doomed by terrible 4-20 shooting from distance and their standard horriffic 21 turnovers. But Ohio State dodged two huge bullets as no one expected both Georgetown and Kansas to hit the skids. Also Michigan State will likely be without Lucas (though I don't necessarily expect them to beat UNI).
Best Beast of Weekend: Omar Samhan. You would think there might be more competition for this award but absolutely no one put together two better games than the St Mary's big man. Check out this line against Richmond: 11/16 from the field, 7/10 from the line, 29 points, 12 boards and 1 block. And that was argueably his BAD GAME. Despite being the recipient of a terrible call on his second foul just 6 minutes into the game against Nova (which had me screaming at the tv and genuinely wondering again about officiating conspiracies) Samhan was the 'Sandman' in putting the Wildcats to sleep. He was unstoppable to the tune of 13/16 from the field, 6/8 from the line, 32 points, 7 boards and 3 blocks. On top of his sparkling play he is a media darling who has proven to be the most quoteable figure at the tournament. Asked where the win over Nova ranked in St Mary's history, "Number One. Best win ever. Quote it. Omar Samhan said, Best win ever." He also wins the less coveted but nonetheless intruiging Best Social Media Handle by a Sweet Sixteen Player award, for his YouTube account name, "Poopshower."
Game we can't wait to see next weekend: Cornell vs Kentucky. Its the clash of styles with Cornell's 8 seniors against Kentucky's trio of one-and dones. Talent vs Togetherness. The Glitzy Flash and Dash vs the Solid Stick and Move. Hickory vs South Bend. I can't wait. And I'm not ashamed to admit I hope Cornell takes it to em.
The ALL-YMCA team (type of players you find at every local Y and hate playing against):
Jimmer Ferdette, BYU: The Local Gym Legend. Based on his name alone he could make this squad. But The Jimmer is that guy who is the legendary scorer who carries his pick up team because no one can guard him. He has the herky-jerky scoop shot laden game that is very old school. He is sneaky quick getting past people that you can't say he is quicker than. And he's also a lights out three point shooter. Fare thee well Jimmer. We lost you too soon in this tourney.

Omar Samhan, St Marys: The Big Guy. His performances were incredible but Omar is the big guy with the total package. Up and under. Drop step. Driving hook. Seven foot turnaround. And he's more fleet of foot than his size would suggest. At your Y he is the guy who played a couple of years in college but dropped out for some reason no one really knows. Now he's packing a few extra pounds so the one person on your team who is over 6' 2" who has to guard him has no shot as Omar backs him down in the post. Or gives a nice pass to a cutter that sends your team to the sideline.

Jorge Gutierrez, Cal: The Cable Guy. The announcers at the Bears two games identified Jorge as the resident 'pest' on the team. He is not going to score much (the only starter on the team who doesn't average double figures) but he plays high energy defense that is highly annoying. There are always guys like this in pickup games: guys who try too hard on D, guys who only set unecessary screens, guys who will draw a charge and then call it. It's a bonus that Jorge has the crazy hair to go with his cochroach game.

Bryan Davis, Texas A&M: The Young Methusela. This one is just based on looks, but he's the guy who's face and hairline make him look like he is pushing 40, but your jaw hits the ground when your buddy tells you he's 22.  Jordan Egleseder of Northern Iowa and Dallas Lauterdale of Ohio State get honorable mention here.

Chris Kramer, Purdue: Mr. Do-It-All. Kramer is the type of guy you love to run with at your local gym; he's unselfish, does the dirty work, doles out high-fives and assists in equal measure but is capable of stepping up and scoring some buckets if your team needs it. He averaged just 6 ppg during the regular season and had plenty of single-digit scoring games where his team just needed a few rebounds and some good defense from him, but stepped up against Texas A&M with 17 points and a game-winner that was classic Y: the slow-moving crossover and layup.
Best Finish - Maryland v MSU: This was a great cap to the weekend, maybe the only game besides Kansas-UNI that elicited genuine yelps of excitement despite the fact that there were plenty of clutch late shots to go around all weekend. What really made this game great down the stretch was that there were a series of huge plays on both sides - down 9 with two minutes left in the game, Maryland cut into Sparty's lead with several clutch steals and some big shots by General Greivis, who helped the Terps actually take the lead with 30 seconds left. Then, this happened:
Unbelievable sequence on both sides - nice jumper by Green, nicer running leaner by Vasquez, nicest jumper as time expired by Lucious. Delvon Roe should also get an assist for ducking his head just as the pass to Lucious whizzed by him.