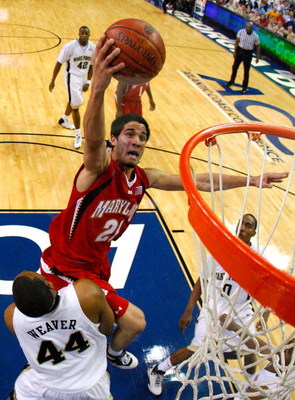 Well folks, as we find ourselves winding down another ACC season (it went by so fast, didn't it? Tar Heel fans excepted, of course…) and it's time for your friendly neighborhood bloggers at BvB to dole out some end of the year honors. Talent wise, it's been a pretty down year for the ACC in general, but as a result, the widespread parity (read: mediocrity) has resulted in quite a few ( poorly played) close games along the way. Here are the guys who stood out:
POY:  Jon Scheyer OR Greivis Vasquez: Here's how this is going to go down: whoever wins tonight's matchup between Duke and Maryland should also be the team that can lay claim to its best player taking home ACC Player of the Year honors (in all honesty, we'd like to see that prediction come true regardless of outcome). It might seem like a cop out, but you tell us how else to separate these guys. Both point guards (don't tell Coach K), seniors, and team leaders for the two best teams in the conference. Scheyer (18.8 ppg  5.4 apg  1.6 spg) leads the conference in assist/turnover ratio, free throw shooting, and minutes played and is fifth in 3 point %.  Vazquez (18.7 ppg  6.4 apg  1.5 spg) leads the conference in assists per game, is ninth in FG % (which is great for a point guard) and is right behind Scheyer in FT % and  seventh in MPG. Both are deserving, and both are great players. If you put a loaded squirt gun to our heads, we'd probably give it to Scheyer. (He grimaces more, but has better skin) The truth of the matter is that the team that wins tonight's game will in all likelihood produce the eventual winner of this award, particularly when you consider that Vazquez accounts for so much of Maryland's offense.
First Team: This was actually pretty easy up until the last spot. I doubt there will be much disagreement amongst those of you with opinions
Jon Scheyer PG Duke - Will probably top 2000 points for his career. Sneaky, sneaky, Scheyer.

Greivis Vazquez PG UMD - How the Crazies will miss his visits to Cameron! A cocky SOB, but backs it up( usually). We love to hate this guy in Durham

Malcolm Delaney PG VT  - The best pure scorer in the conference ( 20.1 ppg 4.1 apg) . Pick one thing and do it well! (though, to be fair, he is seventh in the leage in assists)

Al-Farouq Aminu C WF-  16.8 ppg and 11 rpg. Also 6th in blocks and FG %. The best big man in the league.

Kyle Singler SF Duke- not the POY type of year that most were expecting but, he can always win that next year… (16.9 ppg  7.2 rpg) Strong arguments could be made for Tracey Smith here, but we're giving Singler the nod because of how strong he's finishing the year and because Smith is the only scoring option on his team.
Second Team: Probably not a whole hell of a lot of debate here either, to be frank. There's a pretty sharp drop off after these guys.
Tracey Smith PF NCST -   (17.1 ppg  7.9 rpg and first in the league in FG%)

Ed Davis C UNC - another year, Ed, or is it off to greener pastures? (13.4 ppg 9.6 rpg  2.8 bpg)

Trevor Booker PF Clem- Also probably a dispappointing year based on expectations.Still, he's a man in the paint (15.3 ppg  8.3 rpg)

Nolan Smith SG Duke - Without question the most improved player in the league. POY candidate next year. (17.9 ppg  45% FG which was 7th in the ACC)

Ish Smith PG WF - Great senior year for this guy. He was always fast as hell , but really worked himself into becoming a better basketball player (13.2 ppg  6.2 apg 1.9 spg) Could go with Lawal or Landesburg here, too.
Third Team
Gani Lawal PF GT -  an absolute beast on the boards. (13.9 ppg  9.3 rpg)

Sylvan Landesburg SF UVA - One of the best scorers in the league. Had some monster games this year (17.4 ppg)

Dwayne Collins PF UM - Thought about leaving for the league last year(wha..?). Staying couldn't have hurt. (12.2ppg  8 rpg)

Reggie Jackson PG BC - One of the best all around players in the league, and could really get on the map next year (13.2 ppg  5.7 rpg   4.4 apg)

Brian Zoubek C Duke - The best team in the league's MVP for the second half of the season and the number two offensive rebounder in the conference, while playing only 20 minutes per game.
Honorable Mention: Deon Thompson, Dorenzo Hudson, Derrick Favors, Joe Trapani, Landon Milbourne, Chris Singleton, Mike Scott,  Solomon Alabi
Rookie of the Year: Derrick Favors, GT
All -Rookie Team:
Derrick Favors, GT

Jon Henson, UNC

Jordan Williams, UMD

Durand Scott, UM

Scott Wood, NCST

Brian Oliver, GT
Defensive POY: Chris Singleton , FSU
All Defensive Team
Chris Singleton, FSU

Lance Thomas, Duke

Ed Davis, UNC

Ish Smith, WF

Al-Farouq Aminu, WF
Coach of the Year: Gary Williams - At the beginning of the ACC season this looked like Tony Bennett's award. Three weeks ago it probably belonged to Seth Greenberg. With a strong honorable mention to Coach K, we think Williams gets it this year. Both he and K have the two most upper class laden teams and both are fortunate enough to have POY candidates running the point, but after Vazquez, Maryland's got a bunch of nothing. Coach K gets penalized for having talent laden teams, which is unfortunate , but sweaty Gary has done a truly commendable job yelling and sweating his team into contention for the ACC regular season title.