Now we have Health Care, a Tar Heel recovery plan is next?
Occasionally here on Blue vs. Blue we have a feature called "Thoughts from the Other Shade", where one half of the rivalry takes a look at what's going on eight miles down the road. Today, Duke supporter Bart Matthews takes a brief respite from basking in the Devils' championship glory to look back at the epic disaster catastrophe mess that was UNC's 2009-10 season.
My eyes are bleeding. I just spent 2 hours of my life looking back over write ups and box scores from every UNC game this season. The things I do for this blog, I tell ya…
One thing is immediately clear from reviewing the debacle that was the Heels' year and it's probably the best thing I can say about it : they were very consistent. The things they did poorly they started the year doing poorly and ended the regular season doing just as poorly. They were (in descending order of poorness): perimeter defense, 3 point shooting, turnovers, free throw shooting and finishing games. The thing they did consistently well was rebound the ball. And frankly, playing 6 guys 6'10" or taller, they ought to do well. You can't teach height, after all. To a certain extent you can't really teach jump shooting and free throw shooting, either, at least to the extent that they improve dramatically over the course of a single season. A bad shooting team simply has to figure out ways to overcome those deficiencies by improving in other areas that can be taught like, say, perimeter defense and taking care of the ball. This is where a coach can come in real handy.

It's a thing of beauty from a Duke perspective that, in a year where Coach K did (arguably) the best coaching job of his career, Roy Williams did his unalloyed worst. The Tar Heels simply did not improve in a demonstrable way in any of the areas they needed to to be competitive. Yes, Larry Drew was a turnover machine, but he was far from the only one on the squad guilty of consistently failing to value the ball. It was often a teamwide epidemic and never really got corrected.
As for defense, since it is the side of the ball that is most team oriented, it requires more effort and input from the coach in order to improve than does offense. A loosely organized offense can still put up points and be successful based largely on the innate talents of individuals, but for a defense to be good it must play with unity and precision. It must be the ultimate gestalt process. Go back and look at the numbers and you will see that in the vast majority of UNC's wins, they played good or even great 3 point defense. ( OSU 6-21, MSU 2-20,VT 4-18). The losses can be explained by a variety of combinations of the factors listed above, but the wins against quality opponents only happened because of a solid defensive effort. Historically this has not been Roy Williams forte. His teams have traditionally just run the ball down their opponents throats with the vaunted secondary break, and played just enough defense to win. Last year was a perfect example of this. The offensive inefficiency of this year's squad meant that they had to play defense to win. In other words, they were doomed.
The lack of ability to finish games I attribute mostly to youth and the lack of floor leadership. The number of squandered halftime leads, blown late game leads, and instances when the Heels failed to make winning plays at the end of games was truly remarkable.What they needed was a leader on the court; a figure (or figures) who could rally the troops when the tide turned or make the play to turn the tide. At the year's outset, it was assumed that Deon Thompson and Marcus Ginyard would fill that role. Ginyard seemed a more likely candidate in terms of personality, but after the first 15 games of the year, Deon appeared well on his way to being that guy, at least on the offensive end. But the start of ACC play saw both he and Ginyard wilt like powder blue lilies in the sun. They just disappeared. When times get tough, a leader leads through his play. And neither player proved able to do that. They did finally resurface in the NIT where their ( ahem ) inspired play, led UNC to the finals (time for another banner, woo hoo!!) Is that what it took to motivate them or was the ACC simply a tougher place to play than we gave it credit for? While conference play might account for the lack of production from a numbers perspective, it can't explain the missing intangible leadership qualities, which forces one to ask: were they ever there in the first place?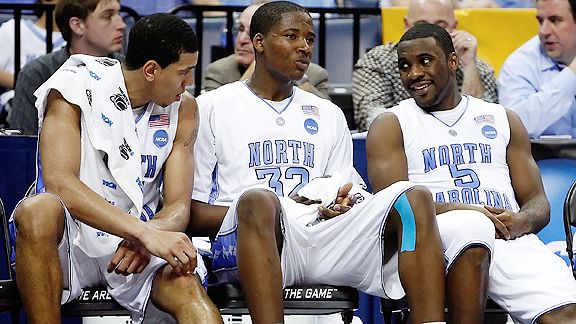 Remembering the good ol days…I am dismissive of the degree of impact that injuries had on this team. While it certainly didn't help and was doubtlessly demoralizing, the major issues already mentioned were clearly evident before Ed Davis went down and Zeller was not really a major contributor before he had to sit. In fact, the frontcourt was the ONE area that UNC could sustain a loss, but nobody stepped up. Quite to the contrary, everyone seemed to step down. I see the Davis loss as merely the difference between a highly disappointing year ( like a first round NCAA loss) and the Hindenberg of a year that actually occurred. Maybe that makes a difference to some Heel fans, but it's disappointment anyway you slice the pie.
I, and many others, have long maintained that Roy Williams is not a particularly good X's and O's guy, but is what many would call a good "system" coach. He knows his system ( fast breaking offense with a relentless "secondary" break) like no one else, but has shown time and time again an inability to adapt that system. When things aren't working, either because of the personnel he has on hand ( see this year) or because of the situation in a particular game ( see his perpetual reluctance to call timeouts and his reliance on the now cliche 5 player substitution motivational trope), I believe the man is lost. There is no questioning his ability as a recruiter ( one of the absolute best), but as a strategist and tactician, the man is average at best. In my mind this year proved it.
The other thing that I don't think Ol' Roy excels at is leadership.Those of you who payed attention this year are all too aware of the number of times he willingly hucked his players under the proverbial bus, as he continually absolved himself from blame. Bad leader!! Bad!!!!
I would like to leave you with a compendium of quotes from post game interviews and write ups starting at the very beginning of the year, which began with an incredibly inauspicious blow out of UNC by Vanderbilt in a so-called "secret " scrimmage. It's an amazingly illustrative way to tell the story of the Tar Heels' season to forget.
UNC vs Vandy:
"…we just didn't play well at all. We were just ugly. We were yucky. … But since then, we've gotten a lot better. I think the seriousness has hit them, the recognition of how good other people are that they might not have ever heard of. I think that was a good slap in the face for us, as opposed to waiting until the season started."
If there is one complaint I have about Roy's teams is how often the proverbial "slap in the face" is required to shape them up. Heck, the 2009 champs needed said slap 2-3 times or so it seemed. (from tarheelfanblog)
UNC 88 FIU 72 "Last year's guys, I've been with them ever since I've been here," Thompson said. "We all knew each other and knew each other's tendencies: where guys are going to go, how guys like to get shots and things like that. Now you just have no clue where that person is going to go, what he's thinking in his mind or if he even knows the play. It's definitely a big difference, but it's also fun and exciting to experience something new."
UNC 89 NCCU 42 "I'm just really trying to get outside of being labeled," he said. "Everybody I guess wants to label you as one thing and I just want to be a player — do anything I can and everything I can." Marcus Ginyard
UNC 88- Valpo 77 : from an ESPN write up "Roy Williams had promised there would be times when his North Carolina team looked ready to make a serious run at defending the national championship. And then there would be days like Sunday, when the Tar Heels (No. 4 ESPN/USA Today, No. 6 AP) commit "silly" turnovers, don't put opponents away and lack intensity. Perhaps most alarmingly, North Carolina didn't show a huge sense of urgency against a determined team that just wouldn't quit."
and this from Ginyard " "I could feel it coming a little bit. In warmups, we didn't seem like we had that pep in our step. Nobody was really talking. We just didn't have that intensity and it showed tonight." (ummmm, did you think it might be wise to say something yo your teammates as the senior leader? say something to, i don't know , your clueless soph point guard:) "Honestly, I thought everything was all good," Drew said. ( the heels blew a 24 point second half lead)
UNC 77 - OSU 73 : "I chewed his rear end out probably the hardest I've ever got on him," Williams said of the fifth-year senior. "If I'm going to chew him out, it scares the dickens out of the rest of the team. He's one of my pets."The one-way halftime discussion worked as North Carolina was in control until the final minute."That was the worst I can remember," Ginyard said of Williams' yelling session. "But he was right. If I'm going to be a leader of this team I have to play better, and I did in the second half." ( the heels blew a 19 point second half lead)
UNC 80 Nev 73 : "This is the first time we got into a late-game situation, and we needed to step up and make big plays, and we did," senior Marcus Ginyard said. "It's one of those things that you've got to go through to learn from, being in a tight game, and making big plays like that."
UK 88 UNC 86 - "We're North Carolina and we can talk all we want about what we're going to do, but when we're out there on the court we have to take care of business," said point guard Larry Drew.
Texas 103 UNC 90 - from an ESPN write up: "This was the second-most points the Tar Heels have allowed under Williams, topped only by Wake Forest's 119 in a triple-overtime victory in December 2003."
UNC 81 Rutgers 67 - from an ESPN write up : 'But the final score doesn't tell what Williams sees: a team that looked confused defensively and struggled to make the right decisions with the ball. "We have the talent to be a very, very good team and have all the pieces to be a very, very good team," Thompson said. "What we do in practice, we just have to do in games. We do everything perfect in practice and then we get in the games and then it seems like we just forget everything." '
UNC 87 Albany 70 - "We've got to get better, guys," Williams said. "It is frustrating right now. The kids are frustrated. It's probably the most negative I've been with any team, but we talk about so many things and say the same things over and over. You know what? They're great kids and we're going to be all right. We've just got to do a better job." (UNC was outscored 23-2 to end the game)
Cof C 82 UNC 79 - "The ninth-ranked Tar Heels (11-4) squandered an 11-point lead down the stretch and lost 82-79 in overtime to the Cougars on Monday night TheTar heels were oustcored 39-3 from 3 point range and lost despite outrebouding their opponent 52-32"
Clemson 84 UNC 63 - from an ESPN write up : 'The Tar Heels ended with 26 turnovers, matching the most committed in coach Roy Williams' seven seasons."I'm not feeling good about the job I'm doing right now," Williams said.'
GTech 73 UNC 71 - "I'm not used to coaching [Kansas] Jayhawk basketball or Tar Heel basketball without any confidence," coach Roy Williams said. "We put ourselves in this spot and we've got to figure out a way to dig out of it. We can go belly up, but I choose not to do that and I told them that in the locker room."
Wake 82 UNC 69 - "It's something that we haven't been through. It's something that we're not enjoying going through," Williams said. "We have no chance if we fold and we have no chance if we give in."The freshmen are trying … but they haven't been through these wars yet," Williams said. "If I live long enough, maybe it will help us a couple of years down the road. But I don't know if I can live through this."
BC 71 UNC 67 - "It's a frustrating time for us, the most frustrating time I've ever had in coaching, there's no question about that," North Carolina coach Roy Williams said. "Some way, somehow we gotta keep trying to do the best we can do." "I thought we were going to win today and get on a great run and we be in the NCAA Tournament," Williams said. "Now I gotta readjust and see if we can get it done by starting on Wednesday night."
DUke 82 UNC 50 - "There's not a lot you can say. We got our tails kicked," Williams said. "I told them if they take this and learn something from it and change, you can still get something. But if you just say, 'Oh, well,' you're not going to get anything from it."
Dayton 79 - UNC 68 - "It's a tough feeling right now, there's no question about that. It's been an unusual year for North Carolina basketball," coach Roy Williams said, his eyes red and puffy as he spoke about his seniors. "I've lived a charmed life in the past, and this has been a little tougher. I'm so proud of our guys for coming to play in this National Invitation Tournament and playing so well up until today and getting us to this point. We just didn't finish the job.""Love their intensity and enthusiasm and how hard they have played," Roy Williams said. "We have had teams like that in the past that have played really, really hard, and very talented. Also, I think we started playing hard once we got in this NIT."