Not many days after the Championship, many amongst the Blue Devil faithful had begun the process of mentally preparing themselves for the likelihood that Kyle Singler would take his MOP status, strike while the iron was hot, and leave Duke for the NBA on the highest of high notes.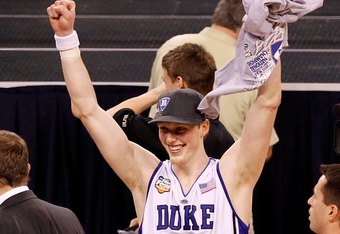 Time to recalibrate.
The junior forward announced Monday that he will be returning for his final year saying "I had two great options in front of me, but I did not want to miss out on all of the great things to come in a senior season."
The speculation was largely that he was squarely on the fence about this decision, with the primary argument for leaving being the looming NBA lockout in 2011, which would obviously not be conducive to his near term earning potential. The biggest argument for staying, at least from a personal standpoint, was his ability to improve his draft status in his senior season. Even had he gone at number 17 this year (which was the highest he was projected in any mock draft) it would have made him the lowest pick for any early entry player not named Shavlik in the K era. Singler had commented last week that even a chance of falling into the second round would be enough to potentially deter him from leaving, and as of yesterday there were still several high profile draft analysts ( including Chad Ford of ESPN) that did in fact have him going in the early second round.
In an era where one would be entirely justified in supposing the decision came down to mostly monetary factors, my personal feeling is that, all things being equal, Kyle is staying largely because he really likes being at Duke and loves the guys on his team. Like Tim Duncan and (ugh) Tyler Hansborough before him, I think he wants to stay simply because he's enjoying himself and his teammates too much to leave. ( Though I'm sure the prospect of hanging another banner and having his number retired doesn't hurt either.)
The immediate upshot of this, of course, is that Duke is now the odds on favorite to win the whole shebang next year. It somewhat recalls the scenario that brought Duke back to back NC's in the early 90's. The '91 team brought home the championship unexpectedly in what was supposed to be UNLV's year, and then returned everyone but Buckley and Koubek to a squad that the whole world expected to win. Likewise, this year's amazing and surprising championship squad that only the most die-hard Dukies picked to win it all will now give way to a team that will be most peoples' consensus number one going forward.
And the burden of expectation will once again joyfully be ours.