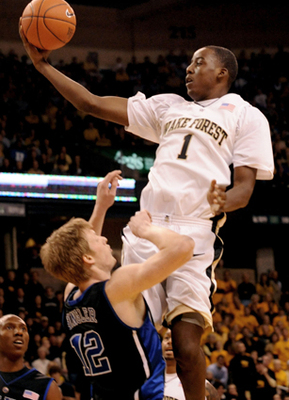 For any ACC fan, it's never really too early to start looking ahead to next season. This will be the first of several installments detailing what we can expect out of 2010-2011.
Who Was Lost
There was seemingly very little in the way of early entry movement from the conference to the NBA this year, with only 6 players taking the plunge. But, combined with the loss of several outstanding upperclassmen, the top level talent will definitely take a hit, with 6 of the top 10 and 8 of the top 15 All-ACC players departing from a league that was pretty mediocre all around. Two teams in particular (UNC and UVA) also lost important players to transfers. Here's how it shakes out, starting with the teams that took the biggest hits and working our way down (or up depending on your perspective)
1. Wake Forest - The Deacs will take a serious hit this year, losing 4 of their starting 5, including their best player in Aminu, their point guard in Smith, their best defender in L.D. Williams and their leading thug in Chas (don't call me chaz) McFarland. Oh, and their coach. That's 45 points, 28 rebounds and 10 assists per game. Good luck, tye-dye nation.
2. Maryland - With Vazquez, Hayes and Milbourne leaving, the Terps lose their floor leader and ACC POY, their top 3 scorers, their top assist man, and their best 3 point shooter. That's 43 points, 11 rebounds and 10 assists per game gone.
3. North Carolina - The Heels lose their top 2 scorers and rebounders in Thompson and Davis and their two best defenders in Ginyard and Davis. The biggest blow, however, was the loss of the Wear twins who, while not major statistical contributors, would have provided critical front court depth to a team that, like GTech, returns only 2 players over 6-6.
4. GTech - The Jackets are essentially a close 4th (if such a thing is possible) here as they lose their top 2 scorers and rebounders in Lawal and Favors , their 4th leading scorer and 3rd leading rebounder in senior Zach Peacock and 5th year seniors D'Andre Bell (6 ppg 3 rpg). They return only one player over 6-6.
5. Duke - It's easy to forget with all of the talent remaining on the roster, but the Devils will lose an ACC player of the year runner -up , their top big man and rebounder, and their best defender and glue guy. For virtually any other team, these would be potentially crippling losses.
6. Virginia - The hapless Cavaliers could least afford major personnel losses, but that's exactly what happened. They lost their best player and leading scorer Landesberg to the draft,while transfers claimed their starting SG (Jeff Jones 7ppg 1rpg) and most prmising young player (Tristan Spurlock).
7. Clemson -  The Tigers really only lose one player of significance in Trevor Booker, but they may as well have lost two or three for all this guy contributed. Their leader in minutes, points, rebounds, he was also second on the team in assists and blocks. David Potter (7 ppg, 2 rbs) also departs along with Oliver Purnell who leaves for browner pastures at Depaul.
8. Miami - The Canes' lose their top scorer and rebounder in Dwayne Collins who departs after a fine ACC career and their second leading scorer in James Dews (11.5 ppg). Adrian Thomas (7 ppg 3 rpg) also departs.
9. Florida Sate - All-ACC defender and leading scorer Solomon Alabi went early to the League and after 15 years of fouling the crap out of everyone in the ACC, big man Ryan Reid (7 ppg 4 rpg) finally exits.
10. NC State - The Pack lose their second leading scorer in the versatile Dennis Horner and the speedy Farnold Degand (5 ppg 3 rpg 3 apg). Guard Julius Mays and freshman Josh Davis were lost to transfers.
11. BC - F Tyler Roche (7 ppg 2 rpg) and Coach Al Skinner.
12. Va. Tech - The Hokies lose no one of significance.
In terms of the big picture, what's truly significant here is that 9 of the 12 teams are losing their leading scorers and 5 of those are losing their top 2 scorers. In addition, 5 of the 12 teams are losing their leading rebounders and 3 of those are losing their top 2 rebounders. It's hard to know without doing more stat-geeking than I am willing to do whether or not this represents a significant increase from past years, but it seems to me to be an unusual number of holes for ACC teams to fill. My next installment will examine who amongst the returning players is mostly likely to fill all those shoes.