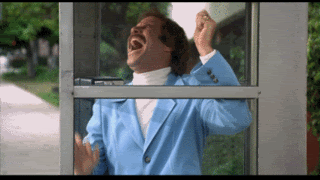 Yep, Ron Burgundy pretty much says it all. Carolina walked into the Georgia Dome last night with a fan base fully prepared to receive a clubbing from a perennial SEC contender, and looked the part through two quarters, falling into a 20-point deficit going into halftime. Then somehow the Heels managed to resurrect their hopes of an upset in the fourth quarter with two huge scoring drives and a miracle fumble recovery, only to eventually fall just… six… yards… short. What do we take away from this game? And can we give analysis in a blatant Bill Simmons ripoff style that ties in various other quotes from Anchorman? Oh, we're going there. (If this annoys you, blame my friend Luke Meadows, who put up a post on Facebook minutes after LSU rattled off 23 points in six minutes that just said "Boy, that escalated quickly… I mean, that really got out of hand fast." Couldn't get Anchorman out of my head the rest of the night). 
"I don't know how to put this but I'm king of a big deal" - This one very clearly goes to T.J. Yates, who deserves first mention over absolutely anything else that a UNC fan could say about this game. The much-maligned quarterback has been openly booed by a fan base that could hardly wait to put him out to pasture in favor of Brynn Renner coming into the season, and was facing an SEC defense without his top two rushers and #1 receiver, yet managed to put the team on his back when they needed him most, throwing for 412 yards, 3 TDs and no interceptions. Even in the final drive you couldn't ask for anything more from Yates, as he twice gave Carolina a chance to win with catchable throws to Zack Pianalto that you could argue should have been caught, should have been pass interference, or some combination of the two.
"My God, what is that smell?… It smells like a turd covered in burnt hair!" - Conversely, we must switch immediately to topic number two in conversations among Carolina fans, which has to be the horrific special teams play by the Tar Heels. The numbers can pretty much speak for themselves (326 total return yards allowed, 218 yards allowed to Patrick Peterson in the first half which included an 87-yard punt return for a TD, and of course there's the illuminating stat of Casey Barth having to make 3 tackles) but as gaudy as those numbers are they don't even capture the horror of watching it happen on TV. I realize that unit was hit harder than most people realized by the academic suspensions, but had it not been for the (controversial) onside kick recovery at the end of the game, this unit would have been nearly irredeemable, something you felt like the coaching staff didn't figure out until midway through the third quarter. Speaking of which:
[jumping into the Kodiak bear pit at the San Diego Zoo]: "I immediately regret this decision." - Surely this was how Butch Davis and company must have felt after continually deciding to kick to Peterson in the first half and continually being burned. I'm not the type of fan that thinks he knows more than a coaching staff but some things are just painfully obvious, like the fact that the Heels should have started punting out of bounds much earlier than they did - the yardage LSU earned on special teams was one of several things you can point to that could have swung the game in Carolina's favor. As much as UNC's staff has to be commended for getting UNC to come back the way they did, it's unclear whether they earned that level of praise with their playcalling and motivational skills or if they were being helped out a bit by some of the awful coaching coming from the other sideline; even with a win under his belt, Les Miles managed to come out of that game with his seat getting noticeably hotter.
"I will smash your face into a car windshield, and then take your mother, Dorothy Mantooth, out for a nice seafood dinner and never call her again." - This one gets a shoutout because that's pretty much how LSU's defensive line treated the Tar Heels' O-line all game. Expected to be one of the more solid units Carolina would still be able to put on the field after suspensions were doled out, it turned out to be one of UNC's most glaring weaknesses. The center-to-QB exchange warrants mentioning for being especially poor and makes Yates' final numbers all the more impressive. You certainly hope the line can show some improvement over the next few games because Carolina is facing a number of good defensive fronts in the ACC and right now teams like Virginia Tech and Florida State were probably licking their chops watching this game.
Brick… You should find yourself a safehouse or a relative close by. Lay low for a while, because you're probably wanted for murder. - To all the UNC suspended players who still traveled to the Georgia Dome - WHY???? It's nice to come and support your team and all but when you're being questioned regarding how you obtained funds to travel to various places around the United States, it just doesn't look good to show up in the crowd at a place six hours away from where you go to school. And if the administration knew about this and/or encouraged it, they should be given a nice punch to the ovary - right in the babymaker. To a nation of college football fans well aware of UNC's various indiscretions to this point, it just didn't look good.
I know that one day Veronica and I are gonna to get married on top of a mountain, and there's going to be flutes playing and trombones and flowers and garlands of fresh herbs. And we will dance till the sun rises. And then our children will form a family band. And we will tour the countryside and you won't be invited. - Finally, I feel like this quote warrants being here because somehow, this is how Carolina's fan base managed to come away from this game feeling. There seems to be a collective feeling that UNC lost the battle but won the war in terms of not embarrassing themselves on a national stage and performing so admirably despite major personnel losses. The word I've probably seen most on Facebook updates, message boards and blog comments is "proud", as in, "I am so proud of this team and the way they played." And while I am glad that Carolina played admirably, I am retaining a not-yet-rosy feeling about the future. Within 15 minutes of Ron Burgundy making the above statement, he was already referring to the same woman as a smelly pirate hooker - that's the kind of 180 I'm fearing from UNC's fan base. Carolina managed to catch quite a few breaks in this game and came up a little short - if there's one thing you can't count on week to week it's luck. Also, everyone seems to be ready to invite UNC's list of suspended players back onto the field but multiple investigations remain unresolved and the Heels can't be sure who will and who won't be returning, or at the very least missing more games.
I'm also a little uneasy cheering for moral victories, as ultimately they still get filed in the "loss" column. Carolina fans have adopted this same upbeat attitude after a good showing in their last two bowl games (both hard-fought losses) and a number of close regular season games (Butch Davis continues to have a terrible record at UNC in games decided by a touchdown or less) but at some point this program has to get over the hump in terms of living up to or surpassing expectations over the course of a season, not just this one game. Hopefully Carolina can deliver this same kind of performance throughout the year and change their fortunes by piling up the wins. If all this team can do is keep it close and the losses continue to mount, I'm not sure we'll all be so forgiving.
What? You pooped in the refrigerator? And you ate the whole… wheel of cheese? How'd you do that? Heck, I'm not even mad; that's amazing. - Ultimately, this is the takeaway from the Heels' slightly-disappointing loss to LSU. Yes, the program shamed itself a bit with the multiple investigations currently being conducted, but the players who were allowed to take the field exonerated themselves nicely, giving a valiant effort. Yes, there's some figurative poop in the fridge to deal with later, but for the time being we just can't get over being impressed; here's hoping it's a feeling that continues all season.
You stay classy, Tar Heels.