Welcome all and sundry to the Blue vs Blue ACC preview extravaganza ! If you are a Duke or Carolina fan ( which we assume you are) the season holds an crapload of promise. If, however, you are just an ACC basketball fan you might just want to close your eyes until Syracuse and Pitt get here next year. The conference basically is a three tier affair ; the Duke/Carolina tier is followed by a fairly steep dropoff to the 3 through 8 sloppy seconds ( or thirds, more accurately) tier. Then there is the "four headed enfeebled, shambling-morass" tier at the bottom, which may ultimately comprise the weakest conference basement the ACC has ever seen. Anyway, read on if you dare!!

12. Boston College - Man, it's been a long time (like, since before I could spell or read) since I've been unable to name even a single player on a given ACC squad going in to the year. Well, enter this year's BC Eagles. Go ahead, give it a shot. If you can do it, you win a shiny new donkey courtesy of Blue vs Blue's Organic Donkey Farm. Hell, I just read 3 articles about the team and I STILL can't name anyone. As Jeff Goodman asks, who the heck are these guys? Exeunt Mr. October, Joey Traps, Corey Raji, Josh Southern, Dallas Elmore, and Biko Paris from last year's surprising 9-7 ACC squad (that's 88% of the points scored last year). And what does second year coach Steve Donahue have to work with this year ? Well, in terms of experience, as little as anybody could possibly have. Guards Gabe Moton and Danny Rubin averaged 14 and 16 minutes respectively and that's it. He's got height and talent coming in (freshmen PF Ryan Anderson and C Kyle Caudill) and has tapped in to the same inexplicable California to BC pipeline that Al Skinner used so well to get 5 of this year's incoming players. In some other year past (see Wake Forest's season preview from last year), I would say something provocative here like, "don't be surprised to see BC go winless in the conference this year," but the fact is, the ACC is so down this year, such statements are best avoided (but it still might happen). I'm certain the Eagles can find somebody to beat in this morass of sub-ocrity. To find out who, read on!!
11. Georgia Tech - Brian Gregory, formerly of Dayton, takes over for Paul Hewitt after 11 years of underachieving and a plethora of NBA early entries. The last of those was Iman Shumpert, who fled to the NBA after becoming only the 7th player in ACC history to lead his team in scoring, rebounding and assists. Joining the diaspora was Brian Oliver (the Jacket's third leading scorer and best shooter) who left for Seton Hall, I suppose because he wanted to find out what it was like to play at the only school that actually has a campus uglier than Georgia Tech's. The cupboard, while not completely bare for Gregory, is a paltry affair, with only a few cans of Franks 'n Beans and some Top Ramen (it'll keep you alive, but you won't be serving anyone an enjoyable meal). And that's pretty much what GT fans have to look forward to. The likes of F Glen Rice, Jr. (who was a mini-Shumpert, finishing second on the team in points, rebounds and assists and who I predict will have a Reggie Jackson-like breakout year), 6-11 Daniel Miller (who comes in the form of a slow and moving torg, yet surprisingly finished 5th in the conference in blocks per game) and serviceable PG Mfon Udofia (who's greatest achievement in his first two years is consistently having the least pronounceable name in the ACC) will technically be playing basketball, just like a good helping of Vienna Sausages will technically give your stomach something to digest, but neither is going to have anyone who isn't really drunk coming back for seconds. Maybe Gregory can call on some of the same mojo he used to prevent the Tar Heels from being able to hang up an NIT Championship banner a few years back. He hopes sophomore SG Brandon Reed, a 15.1ppg Arkansas State transfer, returning PF Kammeon Holsey, and top 100 recruit Julian Royal will help the cause, but it's likely the Ramblin' Wreck will be living up to it's name this season. Here's another preview for further perusal: (http://rushthecourt.net/2011/10/19/acc-team-previews-11-georgia-tec/)
10. Wake Forest - It's only up for Jeff Bzdelik's 1-15 ACC squad from last year. On the plus side, the Deacs return 3 starters. Amongst those is Travis McKie, who is poised for a breakout year after becoming only the 10th freshman in ACC history to lead his team in scoring and rebounding. He is a tough, no-quit kind of player and flew under the radar a bit, which is easy to do when the plane that is your Wake Forest team never bothers to leave the terminal. C.J. Harris brings experience and solid play to the point, and sophomore Tony Chennault will contribute to the backcourt as well. Actually, he'll have to, since sophomore guard J.T. Terrell won't be bringing his 11 ppg back after getting a DWI and senior Ari Stewart bailed to USC. In the frontcourt, Carson Derosiers will play a lot of minutes as he continues the line of big, white, dirty interior players that Wake, seemingly as part of their school charter, cannot play without. He will be joined (eventually, after he serves a semester-long suspension for violation of the team's conduct code) by Ty Walker and the two will form a pretty serious shot-blocking tandem (both finished in the top 6 in blocks in the conference). Melvin Tabb, who was also supposed to add frontcourt depth, will also not be returning after breaking into another student's room to steal an iPad. (Seriously, Wake?) So, it will be up to senior Nikita Mascheriakov and freshman Daniel Green to provide frontcourt depth. Amazingly, as unpromising as all this sounds, they're STILL in a position to be a better team than they were last year. Marginally. For another preview, see: http://www.thesportsbank.net/college-bball/college-basketball-111-in-111-103-wake-forest-demon-deacons/
9. Maryland - Brad Stevens said no. Jaime Dixon? No. Sean Miller replied in the negative. Jay Wright? Uh-uh. Mark Turgeon, two-time Big 12 Coach of the Year at Texas A +M, and former Kansas assistant under Larry Brown and Roy Williams? Bingo! Supposedly, Turgeon is a great tactician and game-day coach, but not much of a recruiter. Hmmm, now who does that remind me of? It's a little hazy…I'm seeing sweat…I'm seeing someone screaming at the players on his bench when things go wrong on the court…almost got it…ah, well, it'll come to me I'm sure. At any rate, Turgeon will spend a majority of this season polishing the proverbial turd, as he tries to turn around a Maryland program that has been on a steady decline in recent years. Unfortunately, he doesn't have a whole lot of turd to work with. Jordan Williams, the ACC's leading rebounder and the Terp's leading scorer split for the NBA, Iceland's greatest living player Haukur Paulsson left for professional pastures in Europe, Cliff Tucker, Dino Gregory, and Adrian Bowie ran out of eligibility (or, as they say at UMD, "graduated") and touted recruits Sterling Gibbs and Martin Breuing decided to go elsewhere.What the Terps DO have is a decently talented trio of guards in Senior Sean Mosely (one of the league's better on-ball defenders), Sophomore Terrell Stoglin (one of the best freshman in the conference last year and the Terps leading returning scorer at 11.3 ppg) and Pe'Shon Howard. Add to that group incoming frosh Nick Faust and you've got a pretty decent backcourt going. There's speculation that Maryland may even run a 4 guard line up out there at times, which tells you pretty much all you need to know about their frontcourt options. James Padgett and Ashton Pankey will contribute… something, if only by default. The real question seems to be whether the 7-1 Ukranian Alex Len is granted eligibility by the NCAA. The presence of the highly regarded center could free Turgeon up from the 4 guard system and, of course, having a legit 7 footer is always a boon (Eurocenter or no). I hope Mark Turgeon sweats and yells a lot. Otherwise, I might actually start to miss ol' Gary. (For another preview, see: http://www.scacchoops.com/tt_Newsbreaker_External.asp?NB=6356)
8. Clemson - The Tigers lost a lot of punch offensively with the departure of Demontez Stitt and Jerai Grant. Brad Brownell's team will once again be hanging its collective hat on defense (second in the ACC last year) as they lack much in the way of playmakers outside the undersized but talented senior Andre Young at the point. He will be relied upon heavily this year. Tanner Smith joins Young at shooting guard, giving the TIgers a very experienced, albeit thin, backcourt, with freshmen T.J. Sapp and Devin Coleman as the backups. 6'9" Milton Jennings played extremely well down the stretch last year and with his length and athleticism could be ready for a breakout season. His experienced frontcourt mate Devon Booker is a solid, if unspectacular, player in all facets of the game. Add in Erkel look-alike and all- around hustlepest Bryan Narcisse, and you've got a pretty not-horrible starting 5, especially by today's ACC standards. Brownell followed the Steve Lavin recruiting model by bringing in a 5 man recruiting class with 4 wing players, the strongest of which are 6'7" Bernard Sullivan, who is expected to back-up Jennings and Booker, and K.J. McDaniels, who may push Narcisse at the small forward position. This team will not be great (do not look for their infamous streak against UNC to end) but should be very competitive, especially given the hard-nosed defensive style of play that Brownell favors. (For another preview, see here: http://www.collegesportsmadness.com/article/2272)
7. N.C. State - Much like Maryland, N.C. State heard a holy host of "nays" from a number of high profile prospective coaches (VC's Shaka Smart amongst them) before getting a "yea" from former Alabama coach Mark Gottfried. (Hey, remember when ACC coaching jobs used to be positions that people actually coveted?) Gottfried takes over a titanically underachieving Wolfpack squad from last year and still has a number of pieces to work with. Gone is gritty forward Tracy Smith, who led the team in ppg and rebounding, the mercurial PG Javier Gonazalez (who was never really an ACC-cailber talent), and highly touted rising sophomore PG Ryan Harrow who transferred out to Kentucky, of all places. Still present and accounted for is big-time talent C.J. Leslie, who brings his 11 points, 7 boards, off-the-charts athleticism and highly questionable shot selection back for another year. Also back are the underrated F Richard Howell (who is a Charles Oakley-like load on the blocks), the sharpshooting human stick-figure Scott Wood, and the sporadically impressive Lorenzo Brown at shooting guard. The general thinking seems to be that Brown will take over minutes at the point, but a big piece to the Wolfpack's puzzle this year might very well be Cal State Bakersfield graduate transfer PG Alex Johnson,. If he can be more than just a competent back-up to spell Brown, Mark Gottfried will have a lot more flexibility in his backcourt.The frontcourt, on the other hand, has a good bit of depth. Along with Howell and Leslie, the return of DeShawn Painter and Jordan Vandenberg at the 5 and the addition of 20 year old 6'8" Belgian frosh Thomas de Thaey give NC State some options (though unimpressive on paper) down low. It would be nice to see the Pack competitive again and I don't think it's a stretch to think they will at least be that in a down ACC year., improving on last season's disappointing 5-11 ACC campaign. I wouldn't be entirely surpirsed to see them get to 8-8. (For another preview: http://rushthecourt.net/2011/10/20/acc-team-previews-10-north-carolina-state/)
6. Miami - Jim Larranaga arrives from George Mason to take over a Hurricanes squad that was shaping up to be able to challenge anyone in the conference not sporting blue uniforms until the loss of big (and I mean big) man Reggie Johnson (ACL), who was one of the better bigs in the conference last year. Fortunately, it looks like Reggie may make it back in time for ACC play, so the 'Canes still have a good shot at making their presence felt in conference. On another down note, Miami lost senior power forward glue-guy Julian Gamble for the year to the same injury which leaves them extremely thin in the frontcourt. They will start the year with three healthy, experience-lacking post players in sophomores Kenny Kadji, Raphael Akpajiori, and Erik Swoope. It's likely that Larranaga will use 6'7" senior wing DeQuan Jones at the four a good bit, and if he can finally perform up to the potential that had him labled a five-star recruit, the Hurricanes could be dangerous come January and February. The backcourt is as solid as just about any in the ACC with the always dangerous Malcolm Grant (a Jack McClinton clone) and playmaker Durand Scott leading the way. Garrius Adams and Rion Brown add athleticism and experience at the 3. Larranaga is a solid coach (and, incidentally, fills the whistling-coach void left by Sidney Lowe.So,we have that to look forward to) and inherits a team that doesn't lack talent but has some serious depth issues. Still, in a down year, that should still be enough to get them into the top top half of the conference. (http://rushthecourt.net/2011/10/21/acc-team-previews-miami/)
5. Virgina Tech - Like Clemson, the Hokies lost a huge piece in the backourt (in the person of all-time leading scorer Malcolm Delaney) and the frontcourt (in the persons of low-post thug/rebouding menace Jeff Allen). Unlike the Tigers, the Hokies bring in the best recruiting class in the history of the school and return a slew of contributing talent that was sidelined by injury last year, making them quite the wild-card this year. At the point, the surprising Erick Green returns and, from what I saw last year, will easily improve on his nearly 12 ppg average. He will be joined in the backcourt by slasher Dorenzo Hudson, who, before an injury ended his season last year, was poised to be the Hokies number two scoring option behind Delaney. Seth Greenberg has tons of options at the 3, 4 and 5 positions, starting with seniors J.T. Thompson (a very solid player returning from ACL surgery) and Victor Davila (defense, rebounding, and hustle) and 6'9" sophomore Cadarian Raines ( also returning from injury). Add to that the #32 nationally ranked 6'8" Dorian Finney-Smith ( a name straight out of Brideshead Revisited and a player that some around the Hokies camp are calling "the next Deron Washington" …shoot me now) and 6'8" frosh C.J. Barksdale and you've got a pretty deep set of bigs. 6'5" freshman SG Robert Brown should see some decent minutes, and may turn out to be the best 3-point shooter on the team. Now, the question of course is, will all of this be enough to finally get the fighting Greenbergs through to NCAA tourney after years of overachieving just enough to get the shaftola ? In a way, I kind of hope they don't just so I can watch Seth's shiny head explode (again) but I believe they will certainly be in the conversation. Whether they are on the bubble or under it remains to be seen. (http://allsportsdiscussion.com/2011/10/10/2011-2012-virginia-tech-hokies-mens-basketball-preview/)
4. UVA - Tony Bennett's teams almost always keep the game close. Half of the Cavaliers losses last year were by 7 points or less, so you know the defense is going to be there. Offensive production was less dependable, but when they got it, they were tough to beat (they are 18-2 under Bennett when scoring more than 70).Those two little tidbits of information, combined with the fact that the Cavs return 4 of 5 starters and 7 of their top 10 scorers (losing only top scorer Mustapha Farrakhan) tell you why this is a team a lot of folks are (relatively) high on this year. Yet another encouraging item is that Virginia managed to go 7-9 in conference without returning all-ACC talent Mike Scott (who was averaging 15 and 10 before he went down with an injury). Scott and the athletic 7-footer Asane Sene will comprise a really solid frontcourt tandem that will be supplemented by redshirt freshman James Johnson. Scott's injury allowed freshmen KT Harrell and Joe Harris (both of whom shot over 40% from distance) to get a lot of experience as Bennett was forced to play a 4 guard lineup. They,along with senior Sammy Zeglinski, will see the majority of minutes at the 2-4 (with Zeglinski backing up PG Jontel Evans) and give the Cavs arguably the best 3-point shooting team in the conference. The Cavs bring in a very solid recruiting class, headlined by 4-star 6'5" swingman Malcolm Brogdon, who can light it up. Scott gives the Cavaliers a way to do what they seemingly couldn't last year, and that is score from inside the 3 point line. That, plus their consistently strong defense should definitely put them in the top third of the conference. (http://rushthecourt.net/2011/10/24/acc-team-previews-virginia/#more-42943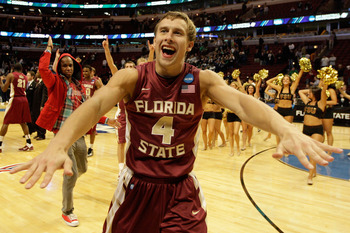 3. Florida State - Leonard Hamilton is now the second longest tenured coach in the ACC and has turned the Seminoles into the third best program in the conference (from a wins standpoint anyway) over the last several years. The two things we know about FSU this year are , seemingly, the same two things we know every year: 1) their defense will be amongst the best in the country and 2) their offense will be as stultifying and painful to watch as their defense will be effective. They lost Chris Singleton, the best defensive player in the country and their top scorer, as well as PG Derwin Kitchen, their second leading scorer. What FSU does have in abundance is experience ( 5 seniors and 3 juniors), length (they are easily the tallest team in the conference with 4 players 6'10" or taller) and, depth, though with Hamilton's propensity to use a 20 man rotation, that kind of goes without saying. One of the Seminoles main offensive issues last season was turnovers, a problem that doesn't seem likely to resolve itself with the turnover prone Luke Loucks taking over those minutes from Kitchen. He, along with senior 3-point streak shooter Davidas Dulkys and lockdown perimeter defender Michael Snaer (who may be looked to this year for a lot more offense) give FSU an experienced backcourt trio that averages 6'5". That should help them deliver the ball into 6'10" bruiser Bernard James, who at 26, is literally a man among boys and led the league in field goal percentage last year. Talented sophomore forward Okaro White is an interesting wildcard in terms of potential offensive production.Freshman guard Terry Whisnant will also get some minutes, if only because of his 3-point abilities. Depth, height, experience and a strong defensive mindset make the 'Noles one of the only teams that has a legitimate chance to push Duke and Carolina at the top this year (http://runthefloor.com/articles/florida-state-seminoles/2011-12-acc-basketball-3-florida-state.html
2. Duke - Since a great deal of time and space will be dedicated to the Devils over the coming months, I'll just cut to the chase and pose the questions facing this team coming into the year. Duke has the most backcourt talent and depth in the conference, though it remains to be seen how well Seth Curry performs as the starting point guard. I don't think there's much question that he will be good, but how good ? How consistently assertive will Andre Dawkins be ? How will Austin Rivers learn to modify his own brash assertiveness to mesh with the team? How will the minutes be distributed? In the frontcourt, it's a 3 headed monster with Ryan, Mason and Miles. Will Ryan continue the offensive production he displayed during Duke's trip abroad? Will Mason's basketball skill set start to catch up with his athleticism? Can Miles become this year's Zoubek?
What kind of impact will the deep and talented freshman class have? And, perhaps most importantly, who will lead this team? Stay tuned…
1. UNC - There's not much not to like unless, like me, you hate everything about them, particularly how good they are going to be. Really, the only major question confronting the Heels is depth at the point guard postion. If Kendall Marshall stays healthy and out of foul trouble it's going to be an uphill climb for most teams to stay with them. Freshman P.J. Hairston and the return of Reggie Bullock help them solve their shooting issues, even with the loss of Leslie Mcdonald to a knee injury. Freshman James McAdoo shows up ready to start (Karl Malone arms at the ready), and will solidify the best frontcourt in the country. And, of course, there's Harrison Barnes, who is absolutely the guy you want with the ball in his hands at the end of the game (unless they are playing Duke, in which case I recommend Justin Watts). It's going to take an inhuman amount of energy to root these guys to a loss this year. Ugh.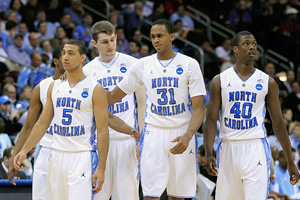 POY - Harrison Barnes
All ACC First Team - Harrison Barnes, Tyler Zeller, Mike Scott, Ryan Kelly, John Henson
FOY - Austin Rivers
All-Freshman Team - Austin Rivers, James McAdoo, P.J. Hairston, Malcolm Brogdon, Dorrian Finney-Smith
All-Breakout Team - Andre Dawkins, Travis McKie, Erick Green, Glen Rice, Jr., Milton Jennings