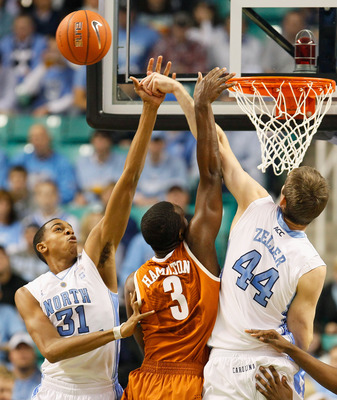 None of the three moves mentioned above were surprises, to be sure, but the decisions by John Henson and Tyler Zeller to return to Chapel Hill next year and Kyrie Irving to hire an agent and prepare for life in the NBA may shift the balance of power slightly in next year's Duke-Carolina tilts.
First, the news out of UNC:
Sophomore forward John Henson and junior center Tyler Zellerboth announced Wednesday afternoon they will return to North Carolina next season.

"I know at some point I want to play in the NBA, but right now I want to enjoy my college life," Henson said. "My teammates and coaches are great and I want to help them reach the big dreams we all share."

Added Zeller: "I want to finish my college career, compete for championships and graduate on time. That means a lot to my family and me. Plus, I know I can get stronger and improve my all-around game with another year."
As a number of publications have already pointed out, even if Harrison Barnes makes the decision to bolt for the NBA (Roy says he's still garnering information from scouts and Barnes says he probably won't make an official decision for another week or so at least), UNC will at least be a Final Four contender next year, if not the prohibitive favorite. Depending on how genuine you felt the team chemistry was on this year's Carolina team, you could also speculate this puts a little additional pressure on Barnes to return knowing that coming back to play with his buddies another year probably puts the Heels at #1 in the polls.
Meanwhile, down the road, Blue Devils' fans will have to shutter those dreams of an Kyrie-Austin Rivers backcourt as Irving prepares to possibly be the top pick in the NBA draft:
Point guard Kyrie Irving announced Wednesday that he will forgo his final three years of eligibility and enter the NBA draft.[…]

"This was a special year for me," Irving said in a statement released by the school. "I love everything about Duke and I'm going to miss it. Duke has a special place in my heart. Even though I'm leaving this year, Duke will always be in my mind and my heart."
As a Carolina fan, I'm admittedly relieved to see him go - you're always a little scared when your rival has a guard that can incinerate defenders at will with his first step - but it's certainly sad the college game didn't have the privilege of getting a full year of him healthy. Jay Bilas has preached ad nauseam this year about the diminishing quality of play in college basketball as a whole (and resulting diminishing returns for the NBA, actually), and getting to have one of the best players in the country back in Durham for another year could have made the spotlight on Tobacco Road even brighter. However, even the most ardent Duke fans probably have to admit it's tough to argue with the decision to leave when you're in line to be a top-3 pick.
Though Duke certainly won't lack for talent on their team next year, they do suddenly have a surprising number of questions to answer with the departure of their best three players in Irving, Nolan Smith and Kyle Singler. Guys who were role players this year will either have to step their production up along with their minutes, or the Devils will be depending on their talented but untested freshmen to carry the leadership mantle for them. They still don't have a scoring threat in the post, and while their perimeter guys can fill it up from the outside, that over-reliance on volume shooters has cut their season short several times in the past decade when a number of players go cold simultaneously.
For the first time in three years, it looks (on paper, at least) like Carolina will have the advantage when the 2011-12 season begins. What happens after that remains to be seen.